To "carry forward" means the process of importing a return (or a batch of returns) from the previous year. ProFile carries forward comprehensive information from Cantax, TurboTax, DT Max and Taxprep tax returns.
Competitors supported
Module

Version (Year)

Functionality Included

Tax Updates

Bug Fixes

Carry forwards to ProFile

ProFile

TTD

TaxPrep

CanTax

DTMax

T1/TP1

2019

Y

Y

Y

Y

Y

Y

Y

T2/CO-17

2019

Y

Y

Y

n/a

Y

Y

Y

T3/TP646

2018

Y

Y

Y

n/a

Y

n/a

n/a

FX/Q

2019

Y

Y

Y

n/a

Y

Y

n/a
Note: ProFile recommends that preparers wait until the fileable release of the ProFile T1 module before carrying forward the majority of files. The first filing release typically has changes to ensure the smoothest and most-complete carry forward of the previous year's files. For T1, this is the R2 release (for example, 2019.2.0).
Competitor software version support
Module
Version Support
T1
Taxprep: 2018.v1.0, 2018.v2.0, 2018.v3.0, 2018.v4.0, and 2018.v5.0.

Cantax: 2018.1.303.100, 2018.2.303.113, 2018.4.303.120, and 2018.5.303.126

DT Max:  V22.20-2018

T1 support tax year from 2015 to 2018
Versions supported:

Note: TurboTax desktop carryforward support beings in ProFile R1 version (example 2019.1.0)

T2
Taxprep: 2018 V2.0, 2018v2.1, 2019 v1.0

Cantax: (2018.1.307.100, 2018.2.307.126, 2018.2.307.131, 2019.1.307.100)

DT Max: V22.20-2018

T2 supports tax year end from 2016 to 2018

T3
Taxprep: 2019.3.0

 

from 2017 Taxprep .317 and .318 files

FX
Taxprep: 2018v1, 2018 v2, 2018 v3, 2018v4

Cantax: 2018 v1, 2018v2, 2018v3, 2018v4
Carrying forward via the File menu
Note: remove any existing password protection on the competitor file prior to undertaking carry forward into ProFile.
To Carry Forward Cantax or Taxprep Files:
1. Select the "Carry Forward?" option from the "File" drop-down menu.
The "Carry forward file" window displays.
2. In the "Files of type:" field, select the type of file to carry forward (for example "ProFile T1 (.18T)"):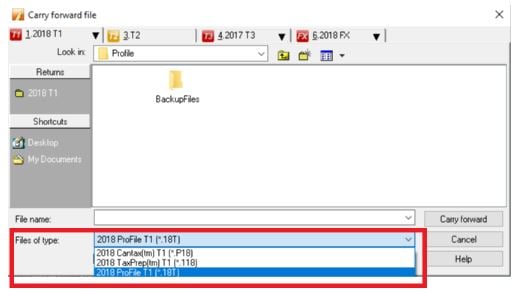 3. In the "Look in" field, select folder location of the return to carry forward: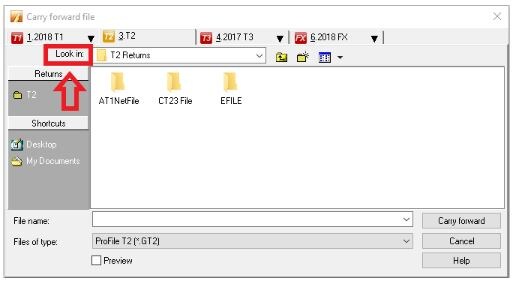 4. Select the individual return to carry forward from the list of returns (for example "Hunter, Jack, 18T"):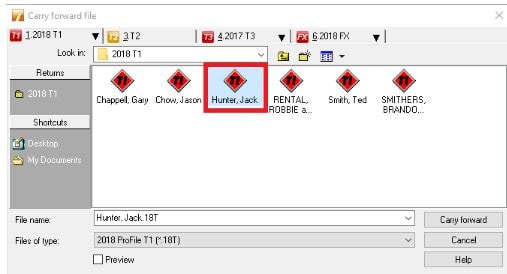 5. Select the "Carry Forward" button: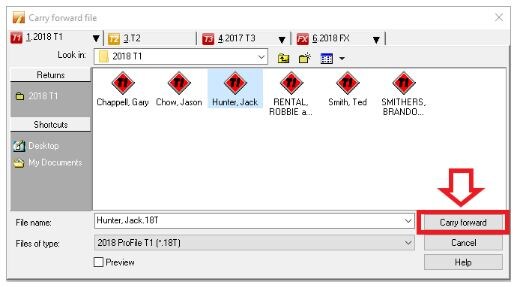 Batch carry forward returns
Carry Forward Cantax or Taxprep Files:
Select the "Carry forward" option under the "File" top toolbar menu.
Use the Classic Database or Client Explorer to import multiple tax returns at once.
Configuring preferences for carry forward
Select the Module option from the Options drop-down menu in the top toolbar menu.
Select the appropriate tax year for the module (for example, "2018 T1/TP1").
Select the General tab.
Select the appropriate options from the Carry forward files section of the General tab.
Click the OK button.